Regular price
Sale price
$0.00 USD
Unit price
per
Sale
Sold out
Introducing our"Rise and Grind" Mug: empower your mornings with daily affirmations and positivity!
Start your day on a high note and conquer your goals with our "Rise and Grind" Mug. This sleek and stylish mug is more than just a vessel for your favorite beverage—it's a powerful tool that infuses your morning routine with daily affirmations and positivity, setting the tone for success and productivity.
Key features of our "Rise and Grind" Mug:
Inspirational design: Adorned with the motivational phrase "Rise and Grind," our mug serves as a visual reminder to embrace each day with determination, purpose, and a positive mindset. Let this phrase be your daily mantra, encouraging you to seize opportunities and achieve greatness.
High-quality material: Crafted from premium ceramic, our mug offers durability and heat resistance, ensuring a long-lasting companion for your morning coffee, tea, or any other beverage that fuels your ambition. Sip with confidence and savor the positive energy radiating from every sip.
Comfortable handle and generous capacity: The ergonomically designed handle ensures a comfortable grip, making it a pleasure to hold the mug while you savor your favorite beverage. With a generous capacity, our mug provides ample space to fuel your day and keep you motivated.
Versatile and stylish: The clean white design of our mug complements any kitchen or office decor, making it a versatile and stylish addition to your daily routine. Its sleek and timeless aesthetic ensures that it stands out in any setting, inspiring you and those around you with its powerful message.
Why should you choose our "Rise and Grind" Mug?
By choosing our mug, you will infuse your mornings with positivity, motivation, and daily affirmations. Here's what makes our mug a must-have:
Empowerment and motivation: The "Rise and Grind" message serves as a powerful affirmation, empowering you to approach each day with purpose, determination, and a positive mindset. It's the perfect reminder to embrace challenges and pursue your dreams.
Daily affirmations: Start your day on a positive note by incorporating daily affirmations into your morning routine. With every sip, you reinforce positive thoughts, setting the stage for a productive and successful day ahead.
Quality and style: Our mug is made from high-quality ceramic, ensuring durability and long-lasting use. Its sleek design and comfortable handle make it a pleasure to hold, while the timeless white color effortlessly complements any environment.
Perfect for gifting: Spread the positivity and motivation by gifting our "Rise and Grind" Mug to friends, family, or colleagues. It's an ideal present for anyone seeking inspiration and daily reminders to stay focused and motivated.
Make your mornings a powerful launchpad for success and productivity. Grab our "Rise and Grind" Mug and let its daily positivity power propel you towards achieving your goals.
Order your mug today and elevate your daily routine with inspiration, motivation, and positive vibes. Rise and grind with purpose, positivity, and a cup full of ambition!
Specific shipping & handling details will be emailed

Show off and tag @letsgetposi on social media
Share
View full details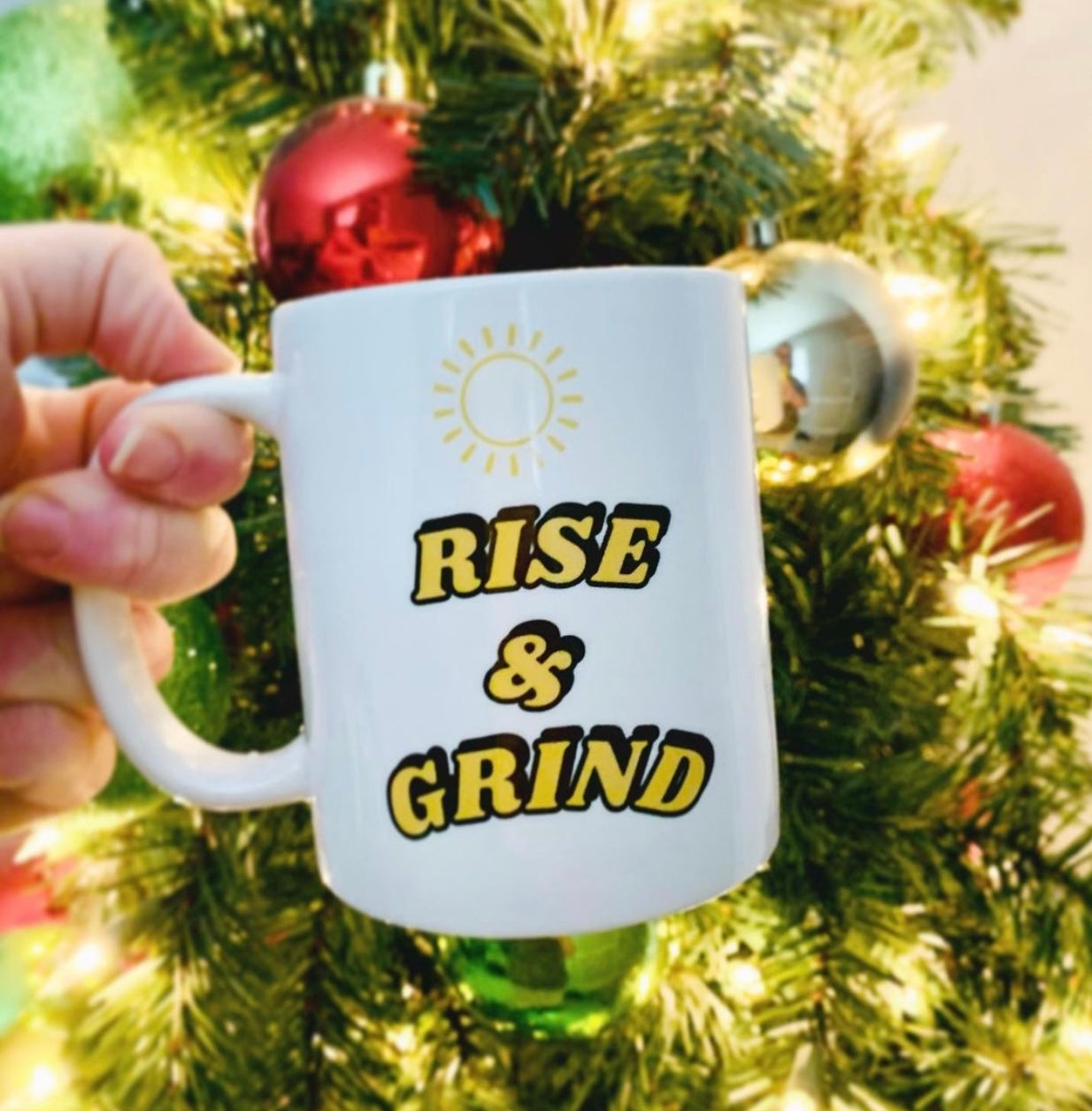 Positivity & Wellness for all