Regular price
Sale price
$20.00 USD
Unit price
per
Sale
Sold out
Discover the perfect companion for your daily adventures: our oversized canvas tote bag!
Introducing our favorite oversized canvas tote bag, a stylish and empowering accessory that will elevate your everyday experiences. With the inspiring message "I have everything that I need" boldly displayed on one side and the uplifting scripture reference "2 Peter 1:3" on the other, this tote bag is a powerful reminder of the abundance and blessings that surround you.
Key features of our oversized canvas tote bag:
Spacious and practical: With ample room to carry all your essentials, our oversized tote bag offers a spacious interior that easily accommodates your belongings, making it perfect for trips to the beach, grocery shopping, or simply running errands.
Empowering message: The statement "I have everything that I need" serves as a powerful affirmation, reminding you of the abundance, strength, and contentment that lies within. Let this message empower you to embrace gratitude and appreciate the blessings in your life.
Inspirational scripture: Imprinted with the scripture reference "2 Peter 1:3," our tote bag provides a source of spiritual guidance and encouragement. Dive into the scripture and discover the promise of divine provision and sufficiency in every aspect of your life.
Durable and eco-friendly: Crafted with high-quality canvas material, our tote bag is built to withstand daily use while remaining environmentally friendly. 
Versatile and Fashionable: The simple yet elegant design of our tote bag complements any outfit, making it a versatile accessory that effortlessly enhances your style. Whether you're heading to the gym, meeting friends, or enjoying a leisurely day out, carry this tote bag with confidence and grace.
Why should you choose our oversized canvas Everything tote bag?
Our tote bag is more than just a fashionable accessory—it's a source of inspiration, a reminder of gratitude, and a symbol of divine provision. When you take out your tote bag, you will:
Embrace an empowering message of contentment and abundance
Carry a scripture reference that provides spiritual guidance and strength
Enjoy a practical and spacious bag for your daily needs
Enhance your style with a versatile and fashionable accessory

Own a meaningful and functional accessory that complements your life's journey. Purchase our oversized canvas tote bag today and let the empowering message and scripture reference be a constant reminder of the blessings and abundance that surround you.
Carry the confidence of knowing "I have everything that I need" with a Let's Get Posi oversized canvas tote bag. Order now and embark on a journey of gratitude, contentment, and divine provision!
Canvas 12 oz cotton tote

28" X 8" X 16"

Open top

Reinforced long handles

Small inner pocket for phone and/or wallet

Wash tip: it is recommended to hand wash in cold or lukewarm water and hang to dry 

2 sided print
Side 1: "I have everything that I need"
Side 2: "2 Peter 1:3"
[CEB] 
By his divine power the Lord has given us everything we need for life and godliness through the knowledge of the one who called us by his own honor and glory. 
[NIV] His divine power has given us everything we need for a godly life through our knowledge of him who called us by his own glory and goodness. 
[KJV] according as his divine power hath given unto us all things that pertain unto life and godliness, through the knowledge of him that hath called us to glory and virtue. 
[AMP] For His divine power has bestowed on us [absolutely] everything necessary for [a dynamic spiritual] life and godliness, through true and personal knowledge of Him who called us by His own glory and excellence. 
Specific shipping & handling details will be emailed

Show off and tag @letsgetposi on social media
Share
View full details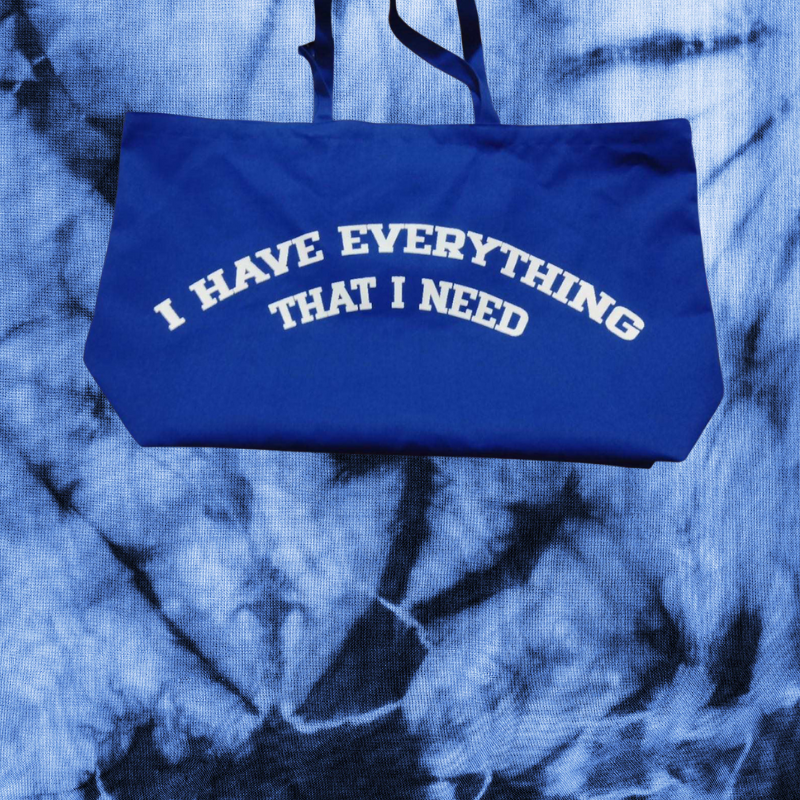 Positivity & Wellness for all