Regular price
Sale price
$17.93 USD
Unit price
per
Sale
Sold out
Introducing our oversized "Faith it till you make it" 15 oz mug
Start your day with a powerful dose of positivity and unwavering faith with our oversized "Faith it till you make It" 15 oz Statement Mug. This enchanting mug is more than just a vessel for your favorite beverages—it's a daily affirmation that empowers you to embrace challenges and manifest your dreams.
Crafted with meticulous attention to detail, this oversized mug features a sleek black design with the inspiring phrase "Faith it till you make It" elegantly printed on its surface. Each time you take a sip from this mug, you'll be reminded to trust in yourself and the journey ahead, knowing that with faith and perseverance, you have the power to overcome any obstacle and create the life you desire.
The generous 15 oz capacity of this mug ensures that you have ample space to enjoy your morning coffee, tea, or any other favorite beverage that brings you comfort and joy. The sturdy ceramic material keeps your drink at the perfect temperature, allowing you to savor each sip while soaking in the positive energy exuded by the mug.
Not only does our "Faith it till you make It" mug serve as a personal reminder of your own resilience and determination, but it also makes for an exceptional gift for loved ones who could benefit from an extra boost of encouragement. Share the power of daily affirmations and inspire those around you to cultivate unwavering faith in their own journeys.
When you choose our oversized "Faith it till you make It" 15 oz Black Mug you make each morning a moment of empowerment and positivity. Let its presence on your desk or kitchen countertop become a catalyst for personal growth and a symbol of the incredible things you can achieve when you hold onto faith.
Infuse your daily routine with positivity and manifest your dreams one sip at a time with our "Faith it till you make it" mug.
Order your motto mug today and embark on a journey of unwavering faith and limitless possibilities!
Specific shipping & handling details will be emailed

Show off and tag @letsgetposi on social media
Share
View full details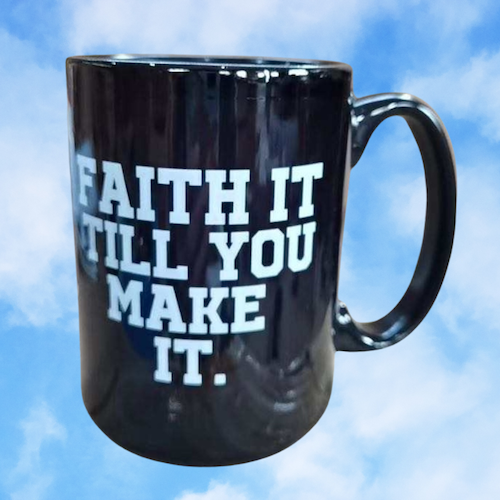 Positivity & Wellness for all