Regular price
Sale price
$0.00 USD
Unit price
per
Sale
Sold out
Introducing our white mug with rainbow design: embrace imagination and positivity with every sip!
Unleash the power of your imagination and embark on a journey of positivity with our Somewhere Mug featuring a vibrant rainbow and the word "somewhere." This mug is a portal to endless possibilities, inviting you to explore the realms of imagination and envision yourself in magical, beautiful, serene, and exotic places.
Key features of our white mug with rainbow design:
Inspiring imagery: Adorned with a rainbow, our mug serves as a visual representation of hope, dreams, and limitless imagination. Let it transport you to a world where anything is possible, filling your heart with joy and positivity.
Uplifting message: Imprinted with the word "somewhere," our mug encapsulates the essence of escapism, encouraging you to mentally transcend your surroundings and envision yourself in your desired destinations. Embrace the power of daydreaming as a source of inspiration and motivation.
High-quality material: Crafted from premium ceramic, our mug offers durability and heat resistance, ensuring a delightful experience with every sip. Indulge in your favorite hot beverage while immersing yourself in the positivity and imagination this mug exudes.
Generous capacity and comfortable handle: With its generous capacity, our mug allows you to enjoy ample servings of your favorite drink. The comfortable handle provides a secure grip, ensuring a cozy and relaxing moment of escape as you embrace your daydreams.
Why should you choose our white mug with rainbow design?
By choosing our mug, you will unlock the power of your imagination and embrace positivity in your daily routine. Here's what makes our mug a must-have:
Imaginative escape: Our mug serves as a gateway to a world of wonder and inspiration. Physically here, but mentally somewhere else, let your imagination transport you to magical, beautiful, serene, and exotic places, fueling your dreams and aspirations.
Positive vibes: The vibrant rainbow design evokes feelings of joy, positivity, and hope. With each sip, you'll be reminded to embrace optimism and a sense of possibility, nurturing a mindset that anything you imagine can become a reality.
Inspirational daydreaming: Allow yourself to daydream and visualize the life you desire. Plan your path to these enchanting destinations and ignite your passion for making your dreams come true. Let the mug be your constant companion on this imaginative journey.
Quality and comfort: Our mug is crafted from high-quality ceramic, ensuring durability and a pleasurable drinking experience. The comfortable handle adds to the overall enjoyment, making it the perfect vessel for indulging in moments of escape and positivity.
Unleash the power of your imagination and embrace the positivity that lies within. Order our Somewhere rainbow design mug and let it transport you to magical realms of beauty, serenity, and inspiration.
Indulge in the enchantment of daydreaming. Get your Somewhere mug today and let imagination and positivity fill your every moment.
White with (rainbow & black) colored print
Ceramic
11 oz
Dishwasher and microwave safe
Specific shipping & handling details will be emailed

Show off and tag @letsgetposi on social media
Share
View full details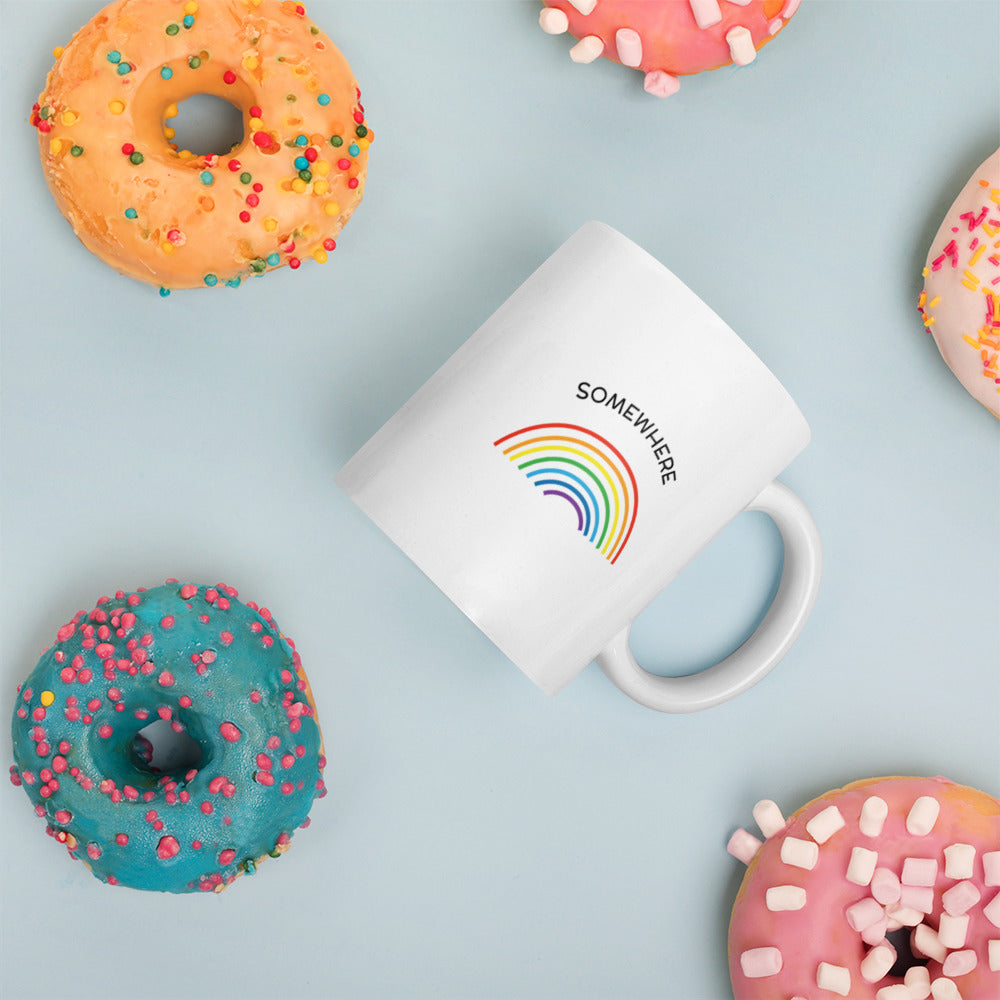 Positivity & Wellness for all