Regular price
Sale price
$0.00 USD
Unit price
per
Sale
Sold out
Introducing our "Thank God" mug: embrace a faith-based daily positivity journey with christian affirmations!
Start your day with gratitude and embrace a faith-based positivity journey with our "Thank God" Mug. Designed to uplift your spirits and inspire a deeper connection with your Christian faith, this mug serves as a powerful tool for daily affirmations and reminders of gratitude.
Key features of our "Thank God" mug:
Inspiring design: The phrase "Thank God" is boldly displayed on the mug, serving as a constant reminder to express gratitude and appreciate the blessings in your life. This faith-based message encourages a positive mindset and reinforces your Christian values.
Faith-based affirmations: Our mug is more than just a beverage holder; it's a vessel of encouragement and faith. It invites you to embark on a daily positivity journey by incorporating Christian affirmations into your routine. Start each day with a grateful heart and embrace the joy of a deeper spiritual connection.
Premium quality: Crafted from high-quality ceramic, our mug offers durability, heat resistance, and a smooth finish. Enjoy your favorite hot or cold beverages with comfort and style, knowing that your mug is built to last.
Perfect for Christian living: Our "Thank God" Mug is the perfect companion for your Christian living. Whether you enjoy your morning coffee, tea, or any other beverage, this mug serves as a tangible expression of your faith and a symbol of gratitude in your everyday life.
Why choose our "Thank God" Mug?
Faith-based inspiration: This mug is designed specifically for individuals seeking to infuse their daily lives with faith-based inspiration and positivity. It's a simple yet powerful way to reinforce your Christian beliefs and nurture a deeper connection with God.
Daily positivity journey: By incorporating Christian affirmations and expressing gratitude through this mug, you embark on a daily positivity journey. It reminds you to focus on the blessings in your life and encourages a mindset of gratitude and appreciation.
Meaningful gift: Share the power of faith, gratitude, and positivity with your loved ones. Our "Thank God" Mug makes a thoughtful gift for family, friends, or fellow believers who are on their own Christian affirmation journey.
Personal reflection: This mug creates a moment of reflection and introspection. Take a pause in your busy day, hold the mug, and express your gratitude to God. It serves as a gentle reminder to find peace and joy in the present moment.
Choose our "Thank God" Mug and let it be a source of daily inspiration, faith-based affirmations, and gratitude on your journey of Christian living. Start each day with a grateful heart and a sip of positivity.
Thank God. For waking us up today. For a warm cup of goodness. For getting us from A to B. For progress. Thank God, for just being Him. Drink to that.
Specific shipping & handling details will be emailed

Show off and tag @letsgetposi on social media
Share
View full details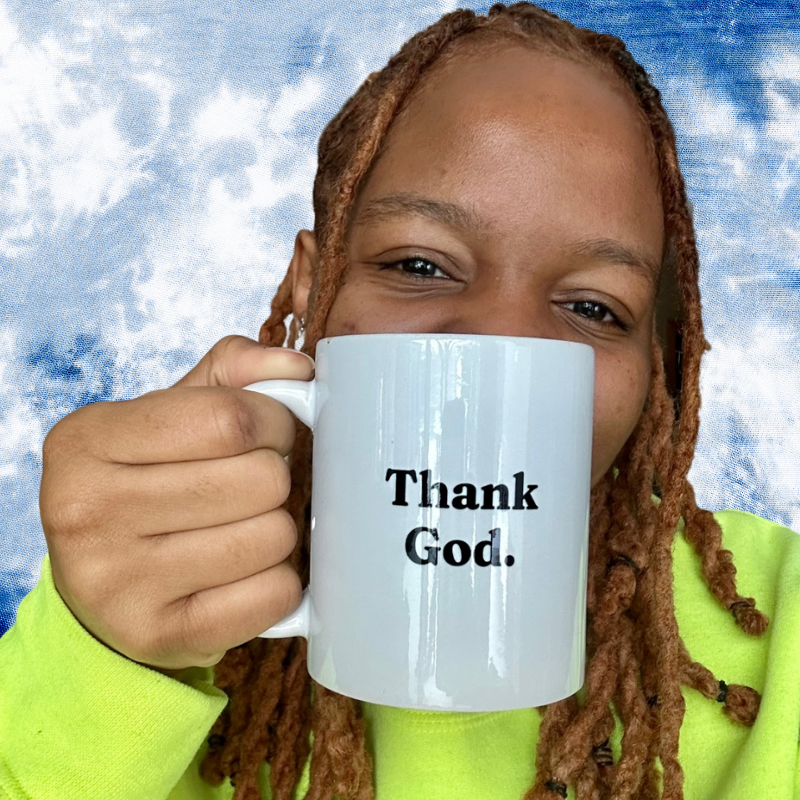 Positivity & Wellness for all